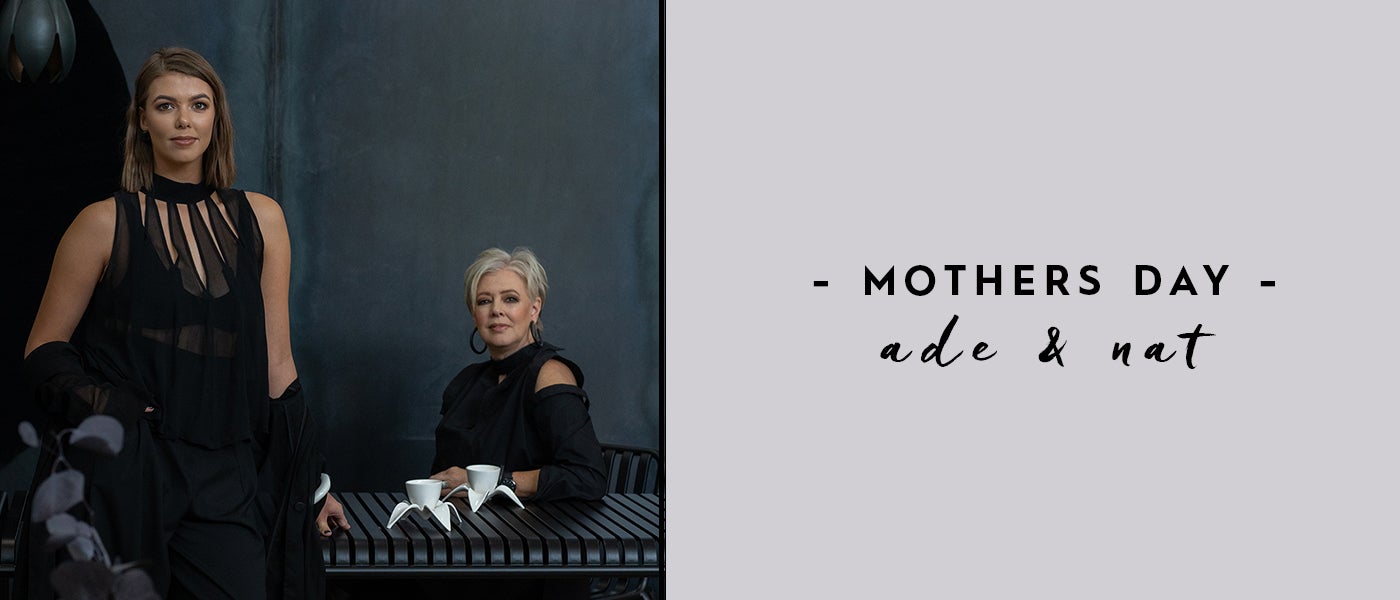 MOTHERS DAY - ADE & NAT
Posted:
---
Mothers represent a multitude of things and exist in many forms, but a true constant among the variables is their unconditional love.

The charismatic and talented Natalie and Adrienne are co-directors of In Black, an interior design studio & concept store. Situated at the back of The Shelter, it is filled with exquisite art and sculptural pieces that transform and elevate the space. Both Ade and Nat have been taylor clients for a long time and exude effortless style with quiet confidence. Between them, they boast an impressive archival collection of taylor pieces, which they brought in to complement the new winter season, highlighting the timeless nature of taylor clothing. We recently sat down with them both for a catch-up to learn a little bit more about their mother-daughter dynamic – and how running a business together works for them.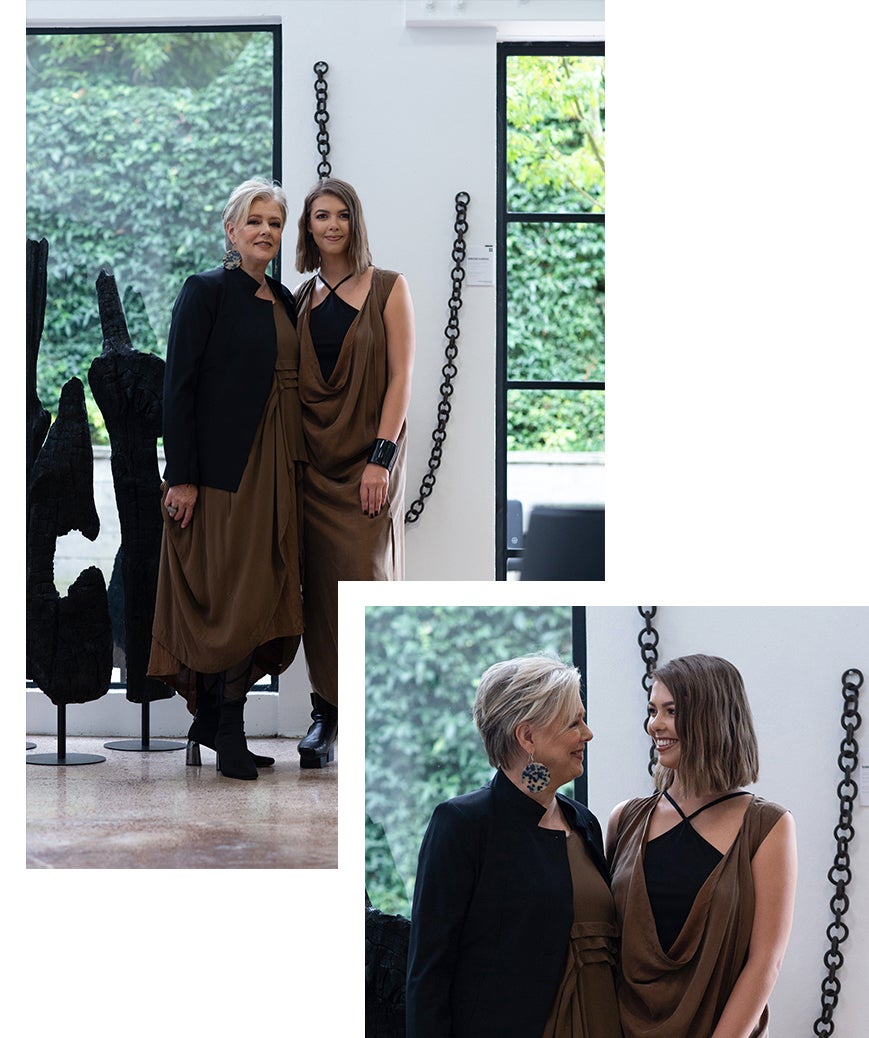 Nat is wearing the Reprise Dress in Tobira and the Extension Tank in Black. Ade is wearing the Washed Mode Slip in Tobira, the Underpin Oblique in Tobira, and the Draped Sequence Jacket.
Tell us a little about yourselves.

Natalie: Recent times have us both living in Auckland, though I spent time in Wellington for University and Adrienne is currently building her dream home in Central Otago – she's going back to her Southland roots. We have a combined experience of over 40 years in the design sector, with a focus on interiors. That led us to open In Black together at the end of 2019.
What inspires you the most about your mother / daughter relationship?
Adrienne: Nat's always ten steps ahead in respect to her curation, she blows me away with what and who she is able to find to represent at In Black. I always value her opinion and collaboration on our design projects.

Nat: Mum's ability to look beyond trends and create a beautiful design that stands the test of time, not only with interiors but her wardrobe too. She has a sense of style that is so inherent and pure, which makes her such an elegant human being.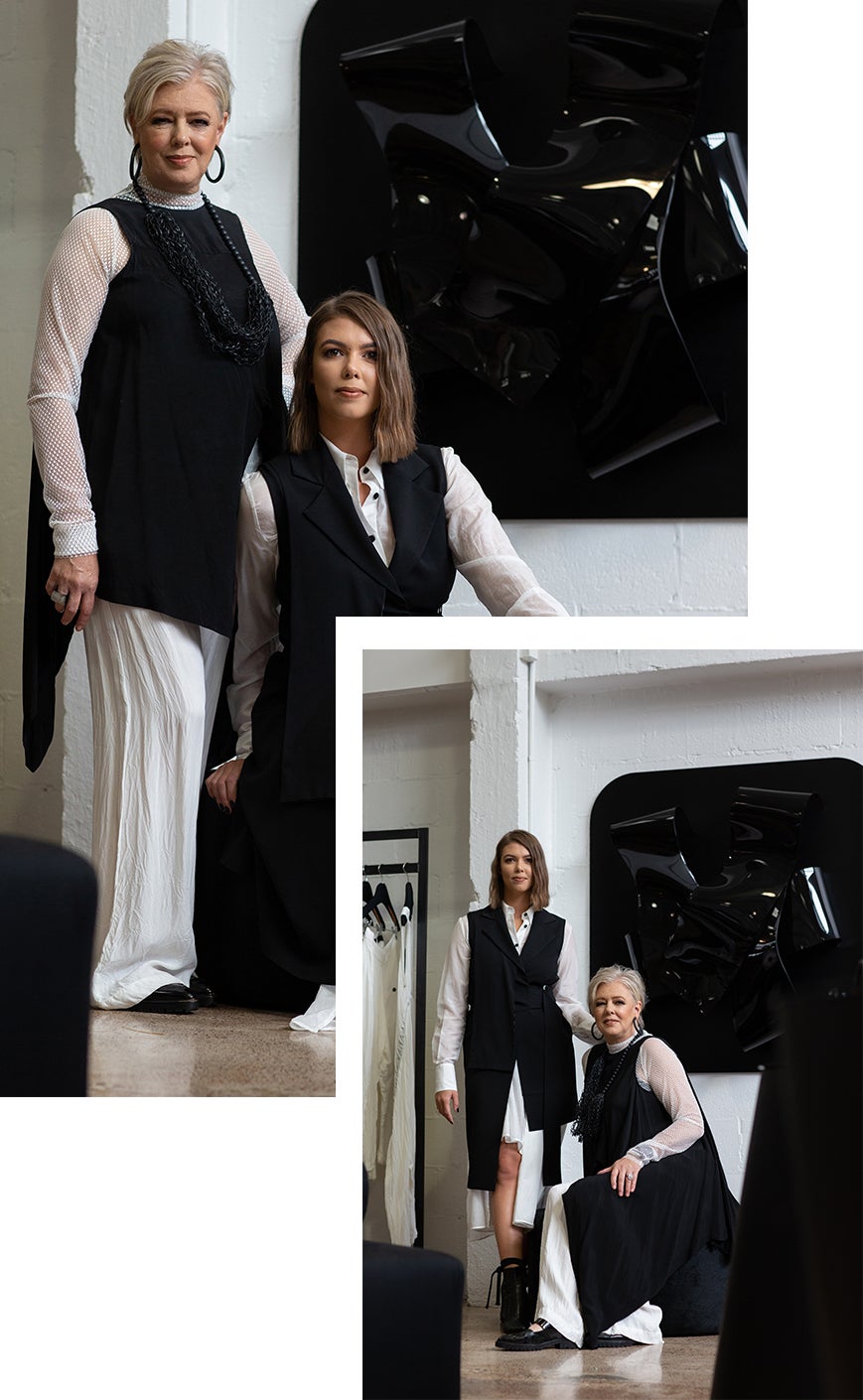 Nat is wearing the Shard Shirt Dress, the Levelled Vest, and Tabi Boot. Ade is wearing the Undone Tunic in Cubed Mesh, the Washed Station Pant, and the archival Cascade Tunic SS17 from her own wardrobe.
What is one of your happiest memories as a family?
Nat: We both consider our month-long Europe trip in 2013 the happiest, hands down. It was a dream-come-true experience seeing the art, design and culture that was so prevalent in our family home growing up. Not to mention the food, wine and fun stories we will all cherish forever.
Ade: As parents, we felt like we were traveling with great friends.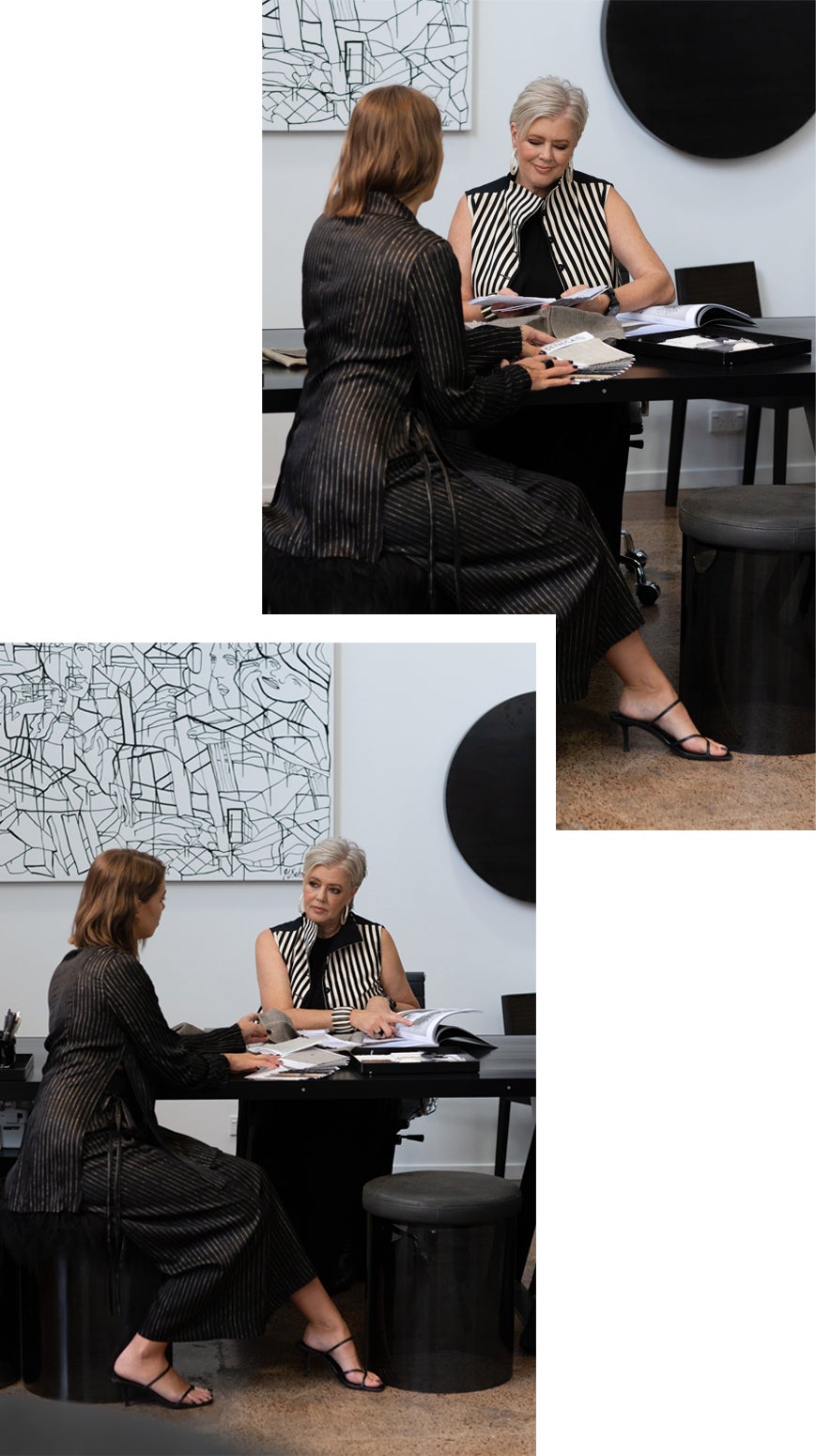 Nat is wearing the Pinstripe Sequel Jacket in Black/Tobira with the Stripe Transpire Pant in Black/Tobira. Ade is wearing the Reprise Dress in Black with the archival Disclose Vest SS16 from her own wardrobe.
How would you describe your personal style? Has your style changed over the years?

Nat: I don't think it has changed so much as evolved. As I add new pieces to my wardrobe, I'm always asking myself what new silhouettes this would let me create, or what new texture does this bring to work with existing pieces? Championing as many New Zealand designers and locally manufactured pieces as I can is also important to me.
Ade: I'm not a great trend follower, I buy with longevity in mind. I'm drawn to pieces that make for interesting layering and are made with beautiful materials. I suppose over the years I have worn more black, and far less colour as it always feels "right" when I put it on.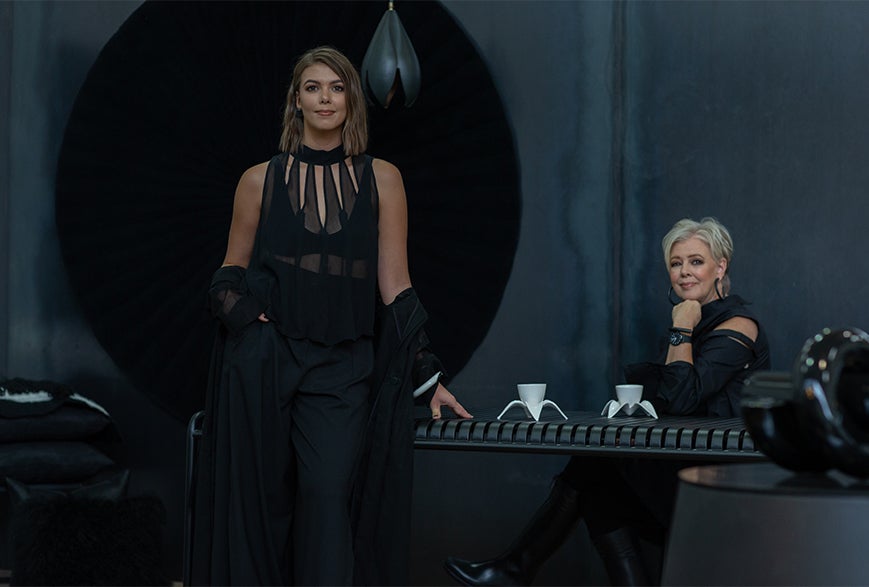 Nat is wearing her archival georgette Render Tank SS17 from her own wardrobe with the Undertone Pant in Black and a Symetria coat. Ade is wearing the Alteration Shirt in Black from Symetria and archival pants.
Can you tell us how you approach dressing for work?
Nat: It's the same all day every day. Dressing for work is an opportunity to extend how I approach design to how I present myself. I dress largely the same from day to night, casual to work – I create outfits thinking about layers, contrasts, textures, line and form. I don't really believe in keeping things for certain occasions. Wear them all and feel good at the supermarket on a Tuesday – why not!?
Ade: I have always felt strongly about dressing the part of a designer, especially if I am presenting for a job with clients or architects. If I am on-site with builders, you will probably find me looking the same, but in sneakers!
What has been the most memorable moment of your career so far?

Nat: Opening the doors to In Black in November 2019 was a pinch-me moment for sure. It was something we had always envisioned in the back of our minds, so seeing it eventuate was definitely memorable.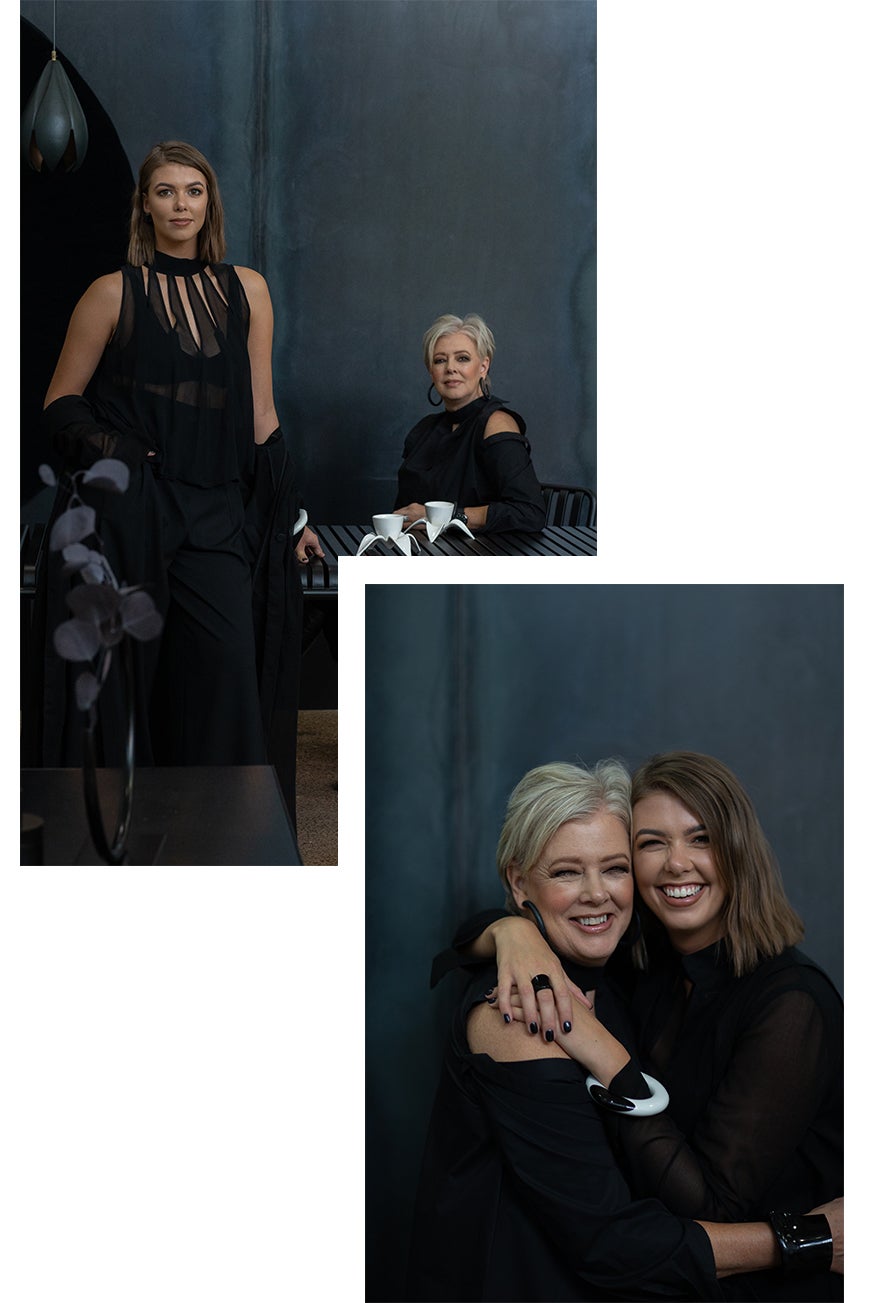 Nat is wearing her archival georgette Render Tank SS17 from her own wardrobe with the Undertone Pant in Black and a Symetria coat. Ade is wearing the Alteration Shirt in Black from Symetria and archival pants.
How does your casual style differ from your work one, and what are we most likely to find you doing on your days off?
Nat: It's all the same for me! On my days off, I think it's important to spend time with friends and family, and often that involves getting out in the fresh air, be it to the beach or out for a long walk. Trying out a new restaurant or an old favourite, visiting galleries and keeping up with what's happening in our city.
Ade: Funny, some would say I don't have a casual style! I suppose I swap out good trousers for jeans, and my tops may be more relaxed. On my days off, after keeping on top of home life, I spend time designing our new home build, visiting art galleries, eating out and enjoying family dinners and get-togethers with loved ones.
Outside of work, what are you passionate about?
Nat: Design is our passion, so outside of work it's often closely related to that. Anything that inspires or informs us, whether it's art galleries, trying new dining experiences to looking around other retail spaces, reading or watching design stories.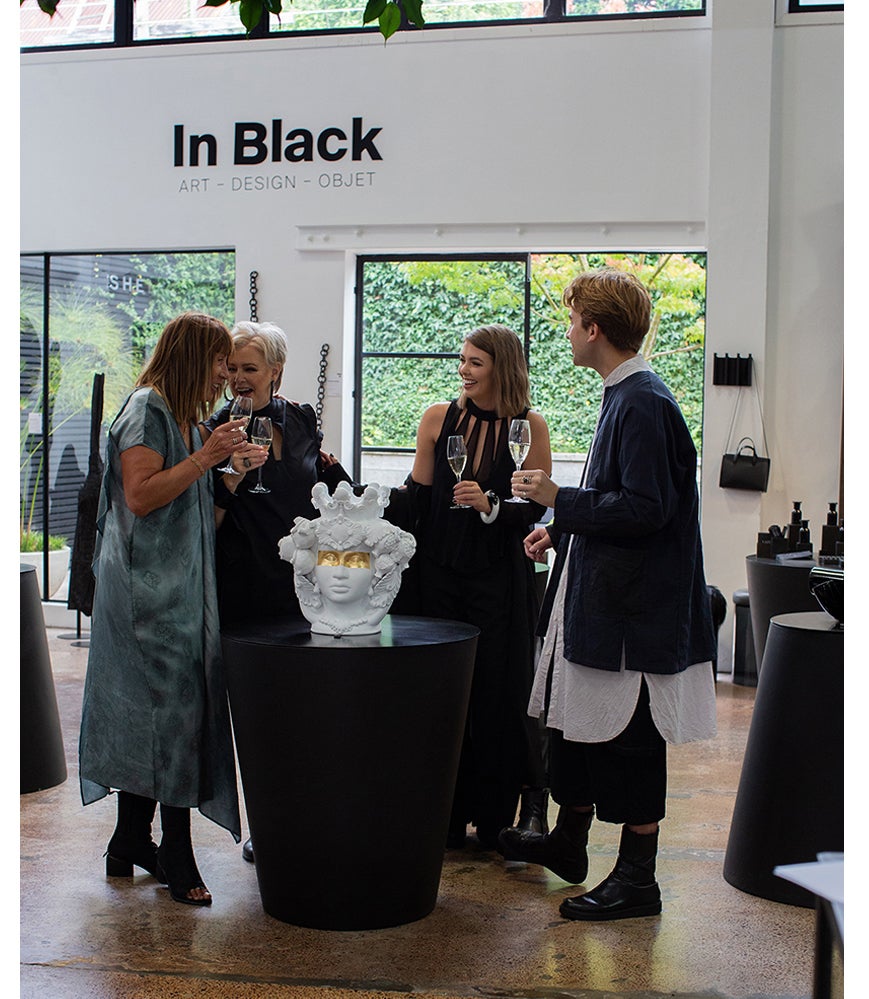 Nat is wearing her archival georgette Render Tank SS17 from her own wardrobe with the Undertone Pant in Black and a Symetria coat. Ade is wearing the Alteration Shirt in Black from Symetria and archival pants.

What pieces from taylor's current winter season ' Fracture' do you just have to have?

Nat: The Reprise Dress in Tobira
Ade: The Underpin Oblique in Tobira
You both have the most amazing archival pieces of taylor from over the years, what is it about the brand that you love and keeps you coming back?
Nat: It's the texture and structure and shape that keeps me coming back. Always pushing the envelope with a new and interesting silhouette to play with.
Ade: I have been a follower of taylor, as one of my go to stores, since its conception. The items I have purchased I keep and bring out most years, classic styles that don't scream this year's fashion.